After my first steps into the world of certified devices, with the Jabra Evolve 65t, I was sick of wearing headsets or in-ears for my Teams calls in my home office. I still wanted the quality of good devices but I didn't want to wear stuff on my head anymore, it's not always very comfortable and it looks weird #LooksMatter. That's when I decided to buy a speakerphone: the Jabra Speak 710!
This device looked promising to fulfil all my requirements: good audio and microphone quality for calls, doubles as a speaker for music. Time to share some of my experiences with this device, since I started using it in March 2020.
It's not a "review" as I am not an audio specialist nor a UC specialist. I'm just someone who spends hours on calls in Microsoft Teams, listens to podcasts while walking and enjoys music regularly. I'm sharing my personal experience with these devices.
Package contents
The Jabra Speak 710 comes in a very small box, just the size of the device itself and doesn't contain much more either:
The actual device, in a nice round shape
The dongle, a Jabra Link 370 UC USB adapter
A neoprene carrying pouch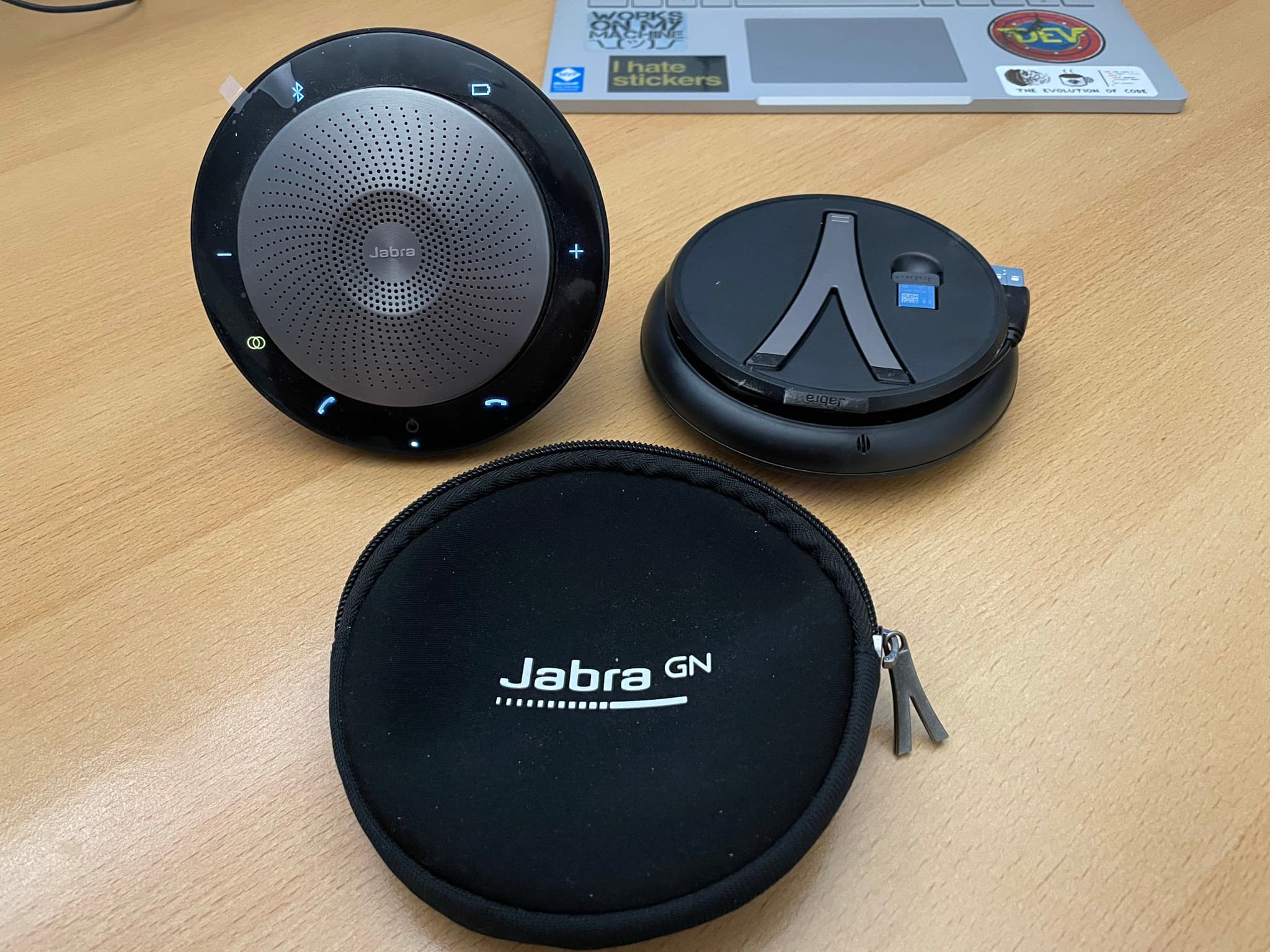 As with all Microsoft Teams certified devices (for now?), these also come with a dongle that improves the Bluetooth connectivity between the device and your computer. It's a lovely detail that these small dongles can be stored in the device itself. Personally, I never used the dongle as I have them permanently on my desk and connected to a USB dock with their attached cable. That's also why that carrying pouch hasn't seen any use it: these devices haven't left my desk at all. As opposed to the pouch for the Jabra Evolve 65t's, I do see the advantage of having a pouch for the Speak 710's. They are designed for mobility as well, taking them to lesser equipped meeting rooms or just ad hoc meeting spaces and then it makes sense to have a pouch to protect the devices while rolling around in your laptop bag.
Specifications
All specifications are on the Jabra website, these are just the ones important for me!
Bluetooth connectivity
USB connectivity
Designed for calls and music
Ability to wirelessly connect two devices for stereo audio
Besides the fact that it has both wired as well as wireless connectivity, what intrigued me most was the claim that this was designed for music too. Further enhanced by the fact that you can wirelessly link two Speak 710's. This linking provides stereo audio when listening to music, but also enhances the call quality when used in bigger meeting rooms.
Experiences
I bought two Jabra Speak 710's from Amazon, mainly because of the audio music. I want a clean/minimal desk set up, listen to music often when working and the whole goal was not to have to use headsets anymore.
Installing them was a breeze: just plug in the USB cables. I had to dig into the manual and do a Google search on how to permanently link both to each other, but no other complaints. My set up hasn't required me to connect them to a mobile phone or wirelessly using the dongle, so I can't speak to that process.
If you connect two of them to your computer, you will get two audio output devices and two microphone input devices. You select one as output device and it will wirelessly sync the output with the other device. In my setup, I disabled one device in device manager on my computer. This way I only have one device to select, I can't miss and the devices itself will make sure both of them are used.
The syncing has a slight delay where music starts to play on just one device first and then in a split second starts playing from the other device too.
Management of these devices happens, as with all Jabra devices, through the Jabra Sound+ app (for mobile devices) or Jabra Direct (on computers). I love the fact that it's just one application that manages all my Jabra stuff. The simplicity is awesome and I hate to clutter my computer with device-specific management software.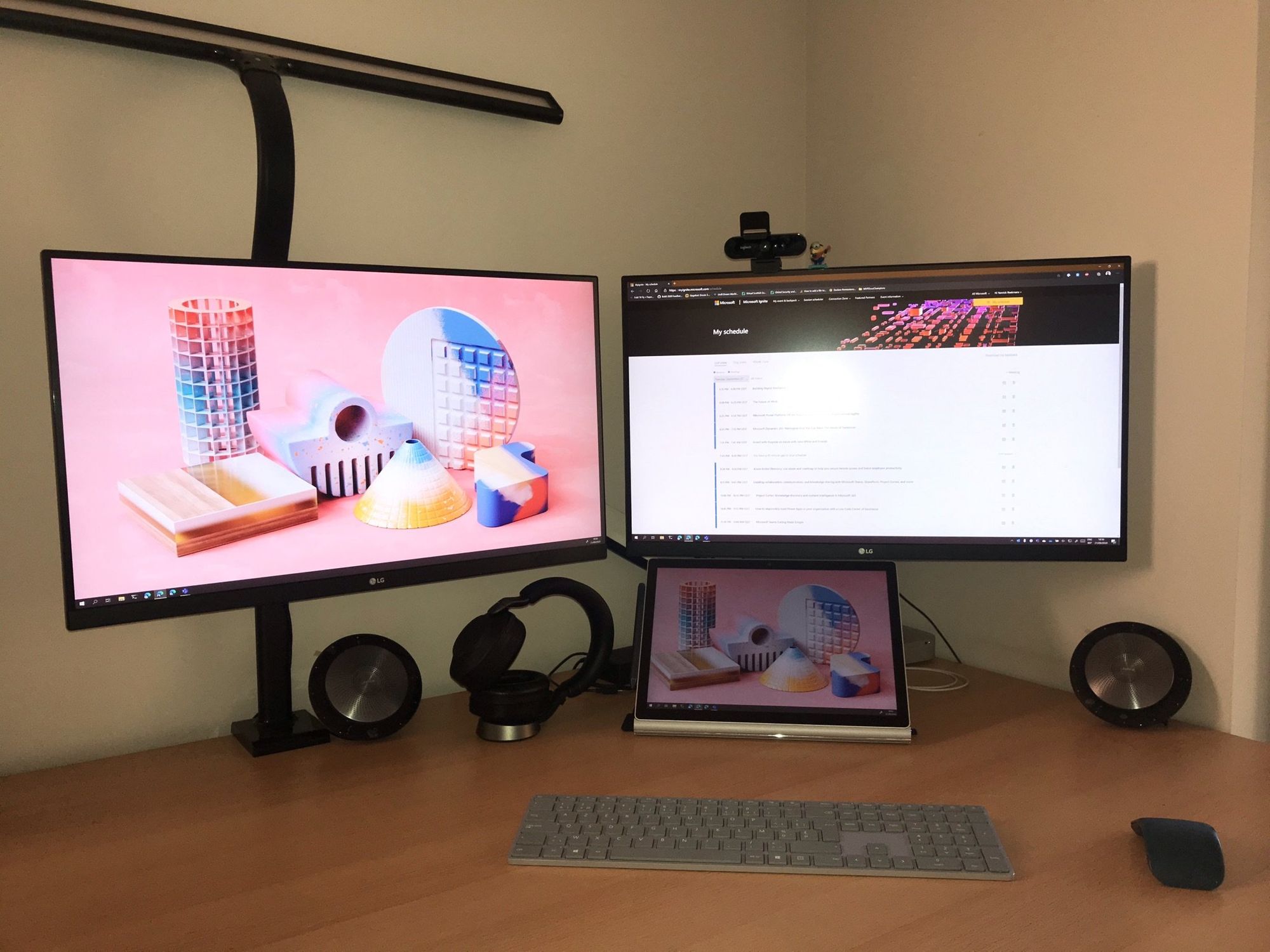 The Speak 710's are the only speakerphones, that I know, that are also marketed for personal usage. Specifically to that use case, they have a built-in kickstand to make them stand up. This way they are facing the user and improving the sound experience when only one person is listening to music. I love it, it makes them look nice on my desk and the audio quality is great for music. I'm not an audiophile so probably they will call this blasphemy, but for me they provide everything I need and the quality is higher than I expected from a speakerphone.
The call quality is where I am disappointed most. All my conversation partners made the remark that it sounded like I was calling from a cave. Audio on my end was clear enough and a joy to use, but when microphone quality isn't great it only fulfils half its purpose. Especially for this price point, I expected better. Jabra Support tried to help me out, and it probably has to do with the fact that they are positioned before a wall. I am speaking into the corner of two walls, and the returning audio makes it difficult for the devices to filter out the echo. As a result, they have to manipulate the audio so much that it gets distorted rather hard. This is supported by short tests of using one device in other rooms, in the middle of the room etc. They suggested "padding" the wall behind my computer so the audio waves wouldn't bounce back so hard, and testing again. I'm sure it'll make a difference but I haven't gotten to it yet.
The reason why it wasn't a priority is because of COVID-19. The pandemic brought everyone back home: my significant other, our 3 year old son and my new born daughter. The whole intention was to go headset-less, but having your whole family at home produces a lot of background noise. When using the Speak 710's, more of my background noise made it back to my conversation partners (and they don't need to hear the crying baby in the background) and I could concentrate less on the call because I was hearing all the sounds of what was happening in our house. As a result I kept wearing headsets for my calls.
I learned from some helpful comments on Twitter that my experience with the call quality isn't unanimously shared, and that my office and the lack of sound dampeners (like wall decorations etc.) might play a big part in this.
Conclusion
The Jabra Speak 710's are unique because they are speakerphones with a personal mode, a kickstand and the ability to output stereo music when connecting two devices. I love them for listening to music but I almost never use them for actual calls. I can imagine using them more after adjusting the office a bit, and in a quiet home office.
I don't regret buying them, they provide a better music experience than my laptop speakers but I could have postponed the investment until I have a quiet home office again 🙂.
FYI, there is a "new" version of the 710 available => the 750. Technically it seems to be the same device, but it comes with a dedicated Microsoft Teams button.