Ages ago, when we were still allowed to travel, I attended Microsoft Ignite 2019 in Orlando. Couple of months before I was awarded MVP and at that conference I got to enjoy the perks of being an MVP for the first time. Jabra was about to launch their new series of devices (the Evolve2 line) and did a couple of NDA sessions for MVP's. Surprisingly, I got an invitation. I got a glimpse of their device future, was asked input and mainly was very quiet because I was intimidated by all the "hot shot MVP's" I was in the same room with 😅. As part of our collaboration we were all sent a gift: a Jabra Evolve 65t!
It was my first certified device ever, so for a long time it was my daily driver. Time to write down some of my experiences using this device.
It's not a "review" as I am not an audio specialist nor a UC specialist. I'm just someone who spends hours on calls in Microsoft Teams, listens to podcasts while walking and enjoys music regularly. I'm sharing my personal experience with these devices.
Package contents
First and foremost, what do you get when you buy a Jabra Evolve 65t?
The actual earbuds, one for your left ear and one for your right ear 😉
3 sizes silicon rubber ear gels
A charging case
A charging cable, USB-A to micro-USB
A soft pouch
The dongle, a Jabra Link 370 UC USB adapter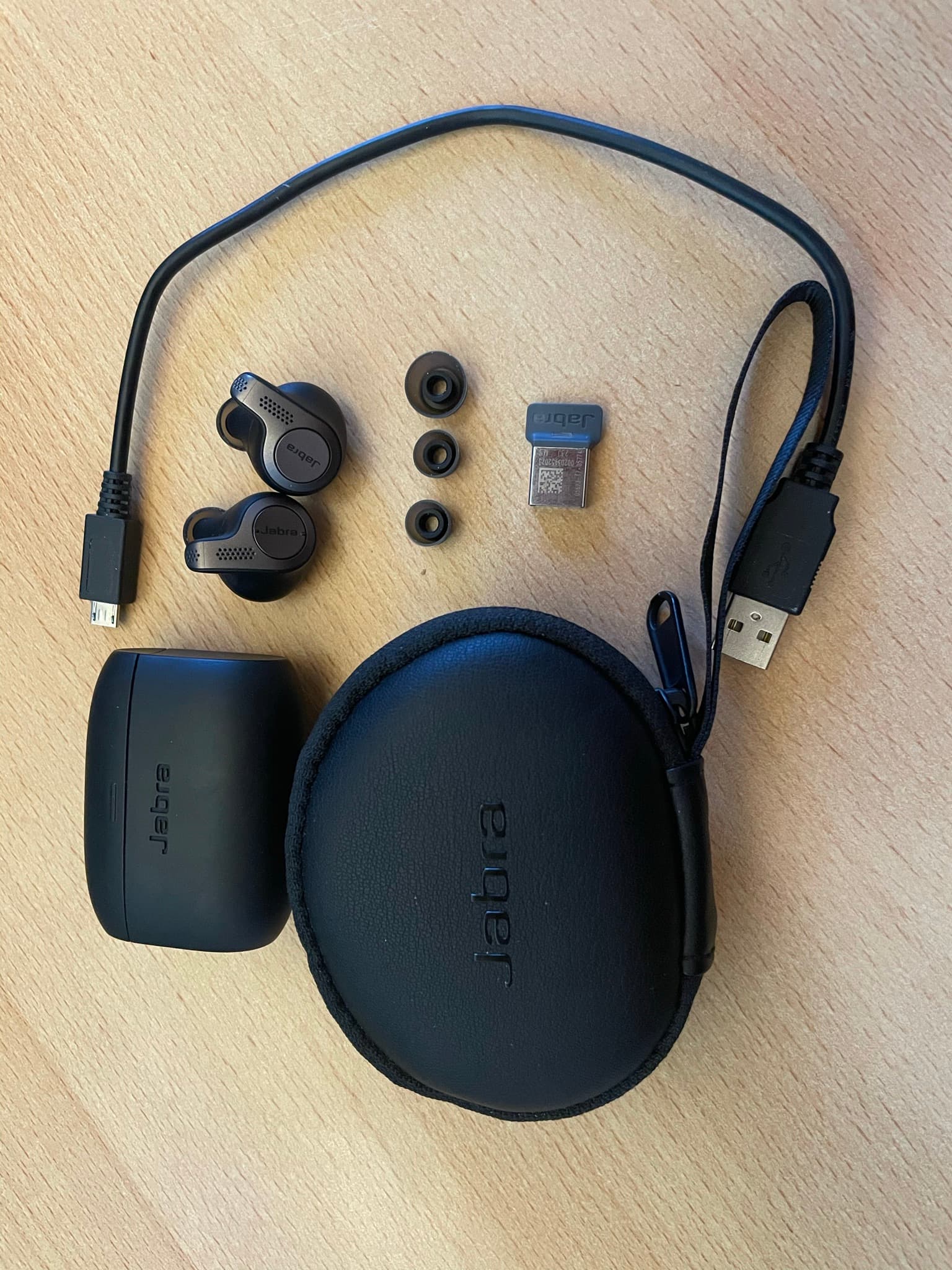 All of the above has an important part to play, except for maybe the soft pouch. The earbuds are essential, obviously, and same goes for the charging case (and the cable) if you like to use them more than once. There is no way to charge the earbuds directly, it'll always happen through the charging case. Both the earbuds and the case contain a battery, and thus contain a charge. The charging case can recharge the buds twice before it needs to be recharged itself. Of course the eargels are important to get a perfect fit, but once you've found your size they serve not much use anymore.
Only thing left to discuss is the soft pouch: it is soft and has a premium feel to it. It fits the charging case, there is a space for the dongle and a pocket to store the cable and the additional eargels. Oh, and I NEVER use it. The dongle stays in the laptop, the eargels aren't necessary to carry as I have found my perfect fit and I already carry enough cables that could charge the device. I find it a lot more convenient to have the charging case by itself than inside the soft pouch, so the soft pouch doesn't get much use.
Specifications
I'm not going to list all the specifications, you can visit the Jabra website for those, but I'll limit it to those that made a difference to me:
4 microphones, for ambient noise cancellation
Passive noise cancellation
HearThrough
Auto turn-on
Auto pause
Up to 8 devices in the pairing list
Connect to 2 devices simultaneously
The 4 microphones capture your voice in voice calls, of course, but they are also used to reduce the amount of background noise is heard on your call. The earbuds only do passive noise cancellation by closing of your ear canal so no external sound can enter. You can also enable "HearThrough", functionality to still hear your surroundings while wearing the earbuds. Very useful in traffic or when you have an important call but still need to keep an eye on your kids and their shenanigans.
When you take the earbuds out of the charging case, they will automatically turn on and try to establish a connection to known devices. They remember up to 8 devices they were paired with before and can connect simultaneously to 2 devices: one (most probably a mobile devices) through plain Bluetooth and the other one (a computer) with the dongle.
Experiences
After unboxing, the setup was very smooth: I just plugged in the dongle and put in the earbuds, and they were automatically connected. I learned afterwards that Jabra devices come from factory paired to their boxed dongle. This makes for a very smooth setup experience! Same goes for connecting to my iPhone: put the earbuds in pairing mode, find them in the Bluetooth section of iOS and make the connection.
It became difficult when I also wanted to pair them to my iPad. The pairing worked without issue but the switching is painful. I never figured out how I could easily switch the connection from my iPhone to my iPad or back, from the earbuds itself.
The management of the device is done through either the app on your mobile device (called Jabra Sound+) or an app on your computer (called Jabra Direct). On iOS, Sound+ feels very modern and intuitive. It shows the connected Jabra devices, the firmware status (+ update options) and allows you to change the sound settings. Jabra Direct wasn't the best experience, a rather old-style application and not very intuitive. Recently a got an enormous facelift, bringing the look and feel much more in line with the Sound+ application and improving the usability.
In the beginning of the year, with the first wave of COVID-19 and the first lockdown in Belgium, I got a lot of use out of them. I spend up to 6h a day in Teams calls (on a bad day) and I really liked using them. Sound quality was much better than my Surface speakers and the same goes for the microphone. Less noise made it to my conversation partners and they could hear me much clearer than before (remember: you use certified devices much more for the comfort of your conversation partner than your own).
During my day to day work, I get 5 to 10mins of between calls and I diligently put the earbuds back into the charging case. These short charges were the only way to get through the day, as they only have about 5h talk time on one charge. This became problematic when I used them for MVP Summit, where I didn't have the luxury of pauses (switching from sessions to side chats and back) and they died on me every day, forcing me to switch to another headset.
This is also when I noticed they don't really fit my right ear very well. The right earpiece pushes against my ear, and after extended use this becomes very uncomfortable for me. You might have a different experience.
Sweat is another problem, but for me that's not specific to this device. When I wear in-ears for a long time, my ear canal gets "sweaty" and starts to itch. I take out the earbud to rub my ear, but with the "auto pause" functionality now my music/podcast stops playing. It got a bit annoying after a while.
Another thing I really couldn't get used to was the extended talking into a "vacuum". Talking while wearing both earbuds was a very strange experience for me. It's hard to describe, but it was unnatural (and thus distracting) to me that I couldn't hear myself while I was talking. I opted to only wear one earbud to resolve this, but the Evolve 65t's only support this for the right earbud. You cannot just use the left earbud (and the right earbud really doesn't fit the left ear). It's a slight inconvenience.
After getting some more certified devices, I started using the Evolve 65t's less frequently. They are now my go-to device on walks to listen to podcasts, while gardening or mowing the lawn. They do a remarkably good job of cancelling out the noise of my gasoline powered lawn mower, without requiring me to turn up the volume to ear-deafening levels.
They don't get much use anymore for calling, except when my significant other uses them. She's a school teacher and thinks she looks ridiculous when she is wearing a headset on her Teams calls. I convinced her to wear the right bud of the Evolve 65t's (she also doesn't like wearing both earbuds). They are practically invisible beneath her long hair, her microphone quality has improved drastically and she can understand her students much more easily.
Conclusion
These are a great choice for Microsoft Teams certified in-ears. They do an awesome job of bringing good audio quality on your side, and acceptable microphone quality to your conversation partners. For me, they have a couple of down sides that don't make it a good device for my daily usage but I still use them frequently on walks and during chores.
I'm thankful Jabra has gifted me these: they were my introduction to certified devices and their advantages, and I still use them a lot!